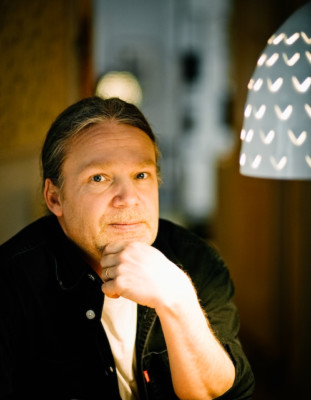 Written by Milena Galeoto
Cagliari (ITALIA)
Martin Widmark was born 1961 and lives in Stockholm with his family. He worked as a middle school teacher and as a teacher of Swedish to immigrants – and he has written several textbooks – but is now a full time author of children´s books. He is fascinated by oddities and everything that is different; food, music, languages and people. Widmark is considered one of the giants of current children's fiction. Martin Widmark´s Nelly Rapp and Lasse Maja series are always on the best seller lists and have also received a lot of lavish praise.
If you want know the italian version of his work: http://www.nordsudedizioni.it/home.php – This page curated by Milena Galeoto, Italian coordinator and contact person author.
We interviewed the author to find out how Mediterraneo is present in his work
– Are you in anyway inspirited from the colors and cultures of the Mediterranean?
To understand this, one must understand the enormous differences between our countries. Up her in the north we are living a long period every year in darkness and cold. This is natural for us. But at the same time when we visit the mediterrean cultures it reminds us of our great struggle in the wintertime. Do you have the saying in Italy that "the grass is much greener on the other side of the river"? this is very much the same feeling that I have for Italy and Greece for example. Those are countries to dream of. (BUT, I must say I am not sure the reality is always so nice as the dreams)
– Are there places that have influenced you and that have you brought in the stories?
Salento is fantastic. So ancient but so fresh. Lecce is like a baker´s dream – like a big cake is the historic center. The islands of Greece with their mix of green, white and blue. And above all. The warm sea. You know, every time I arrive at some shore of the Mediterranean I try to be alone for some minutes. I stand in the water line, letting my thoughts fly away. Very often in my fantasy I can see an ancient Roman ship at the horizon. All this tickles my fantasy and helps me to dream.
– What differences have you found between our cultures?
Oh my God! How much space do you have in your newspaper? This is a subject we constantly discuss, me and my friends. When you make the comparison between our cultures, you often end up in oposites:
Cold – warm
Calm – Excitement,
Structure – no structure
Strategic – Impulsve
Serioiusness – Playfulness
Curiousity – Tradition
Very generally speaking, the Swedes are rather quiet and controlled, a little like the Japanese actually. When I come down to Italy and walk the streets of Rome it is like a theatre – like a show. The volume is higher, the people more intense, the transportations much more chaotic. It is really like stepping into a Fellini-film sometimes. Lovely but chaotic.
– Do you think this interaction with our country could create interesting projects, in that way?
YES. The differences give birth to so many nice ideas. A dream I have, is to make a cooking book for children. Let us say a boy from my country comes down to Italy and must assist his aunt in the kitchen when she prepare food for a big party. The aunt tells him the stories behind the dishes – but suddenly the door opens. It is the neighbor's daughter, Luna, who also is needed in the kitchen. The boy suddenly becomes very shy …
Or the family that gets lost in the Uffizi a night in Firenze. The people in the paintings come down and want to tell the night visitors the biggest secret of them all …
or when the Pope got a letter from a Nordic magician …
or …
or …
– Your detective stories, known around the world, have you someone set in Italy?
Is any of your stories taking place in Italy?
My detective stories take place in small Swedish town called Valleby. Very Swedish, but there are actually influences from south!
The post man is called Franco Bollo, and the barista called Dino Panini. That is my tribute to the Italian culture in my detective stories. 🙂
– You are a teacher too. What do the Swedish children think about Italy, what do the schools say?
The school says Italy looks like a boot on the map. It also tells that your country has a long and very interesting history. A lot of things originates from your ancient culture
and if you ask the children, they will tell you that we have a nice football player playing for Milan
That Italy looks like a boot.
That your country has a very rich history and very nice food.
Of course the children know more things, things that are not taught in school. We have a good football player in Milan. And if you would ask the children directly, they would say they love Italian food of course, like pasta and pizza.
– What Mediterranean dishes, do you find irresistible? And what do you serve when you have guests?
I try to say them in italian: Pasta vongole, mozzarella di boffalo con pomodori e basilica fresca, polipo arosta, ravioli con porcini, risotto milanese, mellanzane sotto olio, pecorino sardo, olivi di Liguria, AHI! I get hungry now!
– We thank you to have give us the possibility to know and we will be happy to follow your italian visit to exchange together nice experiences
My pleasure, nice to look out in your so solar country.