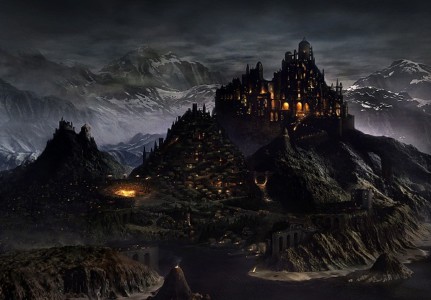 Written by Branka Kurtz
While the world was still a half thousand centuries younger, were the outlines of all forms of external events sharper than today. Then the difference between pain and joy, between happiness and unhappiness was apparently bigger for us; everything that perceived still had one degree of immediacy and absoluteness, whilst even today, pain and joy, they still have in childlike soul.
Each event, each piece was surrounded by pregnant forms and full expression, adapted with sublimity strict and steady of living style. To the big events: procreation, marriage, death, gave the sacrament shine of divine mysteries. But also the less important events like travel, work, and visit followed thousands of types of behavior, blessings, ceremonies and maxims. Poverty and physical disability were submitted at that time was harder than today; and appeared violent and painful. The disease distinguished sharper than health; tough cold and anxious darkness … winter had been even bigger trouble. In honor and wealth people enjoyed passionate and greedier, they differed of poverty and depravity stronger than today. Fur-trimmed, festive robe, cheerful fire at the fireplace, beverage, fun and soft bed were still full of robust enjoyment; on them, the English novel to describe the happiness of life is maintained perhaps the longest. All the circumstances of life were burly heavy and cruelly public.
Lepers rattled with their clappers and maintained parades, and beggars showed their ugliness. Each estate, each row, each craft recognized by its clothing. Great gents have never showed up without weapons and luxuriant livery, causing awe and envy. Justice tailoring, bridal and funeral – all been loudly announced at processions, shouting, wailing and loud music. Lover wore a sign of his lady, journeyman label of its brotherhoods, and client colors and emblem of his master. Daily life is constantly provided unlimited opportunities for fierce outbursts of passion and childish fantasy. Recent historical research, that due to unreliability chronicles, prefers to get their data from public documents, overlays sometimes in a dangerous mistake. They show us some of those differences in ton of life that separates us from those times; referring to them, we mostly forget the powerful pathos of medieval life. Of all the passions that give their color scheme, documents mentioned in the rule, only two of them: money-grubbing and bellicosity. Who didn't often wonder to almost incomprehensible vanity and persistence which greed, desire to fight and vindictiveness was seen in the court documents of that time? These lines become understandable and explainable in connection with the general passion that permeated life with its zeal in each region.
Therefore, we need chronicles for proper understandings of that time, no matter how superficial were the facts and no matter how often they cheated. Those ages roamed from court to court with over deposed kings, generally poor, but with cash-rich plans, splendored by lush of fairytale Orient, whence they came; from Armenia, from Cyprus, and even from Constantinople. Middle Ages missing, those feelings that made our awareness of justice timid and irresolute, it is the realization of the superficial sanity, assumption about the fallibility of judges, awareness that society is responsible for crimes, wonders whether the criminal could be serviceable, instead of being leaved to overhang suffering. Or better said: these feelings didn't lack, but it finds expression only in sudden outbursts of Mercy and forgiveness, which – regardless of guilt – constantly interrupt satisfaction because of imposed justice. We punish with lighter punishment because we are not determined and because we are not sufficiently aware of the guilt, there is a middle Ages that knew only two extremes; full measure of cruel punishment or mercy. In connection with the pardon was asked, much less than today, does the malfeasant deserves mercy from some special reasons; full remission of penalty was common at any time for any even most obvious, guilt.
Are we going back into Middle age, or it comes to us … or is it already with us?!